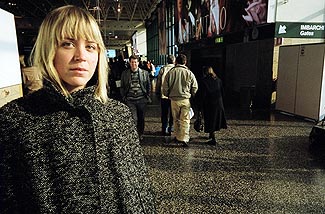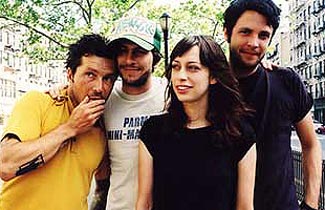 Kicked off this year's CMJ with a small intimate show at Union Hall, a new addition for this marathan. Unfortunately when it comes to CMJ, venues located in Brooklyn will suffer from a lack of attendees as most shows are in Manhattan and allows for venue hopping. Nevertheless, being able to see a show where it doesn't take an hour to get in and its not insanely packed is fine with me, but bad for the bands seeking buzz.
I was elated to find out that Frida Hyvonen was added to the list of openers for tonight's show. I was surprised from her performance w/ Jens Lekman and eager to see her again. Although she played her set to only a handful of people, she played her songs with sultry emotion and a touch of humor.
Earlimart has been releasing some of their new songs on the web and they sound darn good. They continue down the road of crafting subtle beautiful songs with more structure and less distortion. They conjure up the sound of Elliot Smith especially with Aaron's soulful voice and melancholy songs. Unfortunately the venue was empty for a band that should have sold out Mercury Lounge. They played a good set consisting of mainly new songs and a few oldies.
Pictures from the show.
Links:
http://www.fridahyvonen.com/
http://www.earlimartmusic.com/