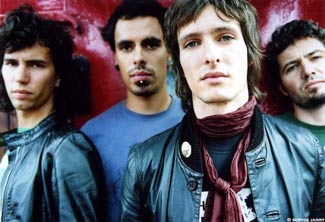 I guess CMJ week is starting early with this sunday late night concert at Knitting Factory. The best part was that it was only 1 dollar, which is good as I'd rather not pay more than that go to that venue. Neimo from France opened up with their catchy rock overflowing with sexy lyrics about love and girls. They were very lively onstage and were entertaining to watch but got bored with the music as soon as I realized all their songs sounded the same.
Despite having various technical problems and going on late (expected from this venue), Why? treated us to their folky surreal pop music. They have a new album coming out so they debuted a bunch of new tunes and they sounded pretty good. The set wasn't perfect but for a buck you can't complain too much.
A few pictures from the show.