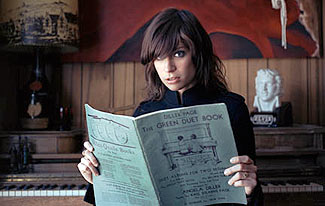 Unfortunately I missed Parlor Mob. Nicole's boyfriend is in the band and they deliver a powerful Zeppelin rock.
I knew he looked familiar but I realized too late that the opening band had Craig Wedren of Shudder to Think. The songs were lively and interesting and made me really miss his old band.
Putting out one of my favorite and most underrated album in 2007 Nicole Atkins deserved to play to a sold out crowd at Bowery. This Jersey girl is finally back from North Carolina where she fine tuned her music and vocal influences. The most recent time I saw her was at tiny Maxwell's singing along with Peter, Bjorn & John. However, now armed with her new album "Neptune CIty" she filled every corner of the club with her powerful voice. Her soulful songs were absolutely captivating and it's one of those shows that make Bowery a magical place for an hour. She sang every song passionately and with her sultry looks it's hard not to fall in love. Musically an amazing and memorable show. You just have to see this girl in a live setting. I mean, check this performance out and you'll realize that this girl is headed for much bigger things.
Pictures from the show