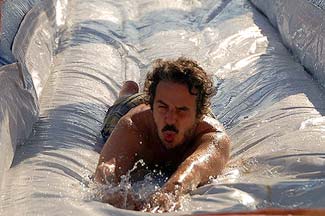 I love the free shows at McCarren park, and this year the season started off perfect. The beer lines were much more tame and the slip n' slide and dodge ball were in full force. Everyone was in good spirits and it was just the right amount of sun. The music was a perfect backdrop for an enjoyable and very Brooklyn public outdoor outing.
I've always felt the music of +/- was uninspired and boring and their live show continues with that thought. Oakley Hall had more energy and picked things up a bit with the crowd and doing a better job filling the huge venue. But the highlight of course was North Carolina's Superchunk. Easily one of the best and most influential punk pop bands, they came out with a lot of energy playing a ton of their songs. Although their newish stuff hasn't evolved much from "No Pocky for Kitty" (one of the best named albums of all time) their craft for pure indie rock still shines. A very enjoyable free day ending with yummy cheap polish food.
Pictures from the show.
Brooklynvegan has better ones.