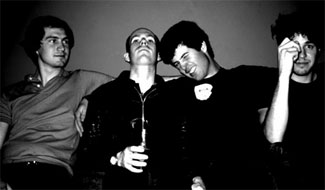 I was very apprehensive about going to the Studio again but I was hoping that the early shows would be better organized. Tonight was their "British Invasion" and The Hosts from Sheffield started things off and played predictabe decent british pop.
Up next was Eugene Jr. & The Juniors from Wales and they brought a full band to play their highly addicting folktronica. They play enchanting pop music with lots of musical textures that you may not notice because you are singing along. Awesome set.
I quickly ran over to Mercury Lounge to check out The Muslims from San Diego. These guys played very fast surf rock punk. Their songs were so energetic that they crammed a 40 minute set into 20 and wasn't sure if that was on purpose or thats their style. Needless to say  the crowd wanted more and I hope they swing around again.
Frances is from Brooklyn with lots of unique instruments and sounds. They play easy to listen songs but nothing to get excited about.
As soon as Pela took the stage and exploded into their set, the crowd woke up from their long night of bands. These guys just plain rock with their pounding drums and driving guitar sounds. The songs are more intense live and although not all their songs are great, the ones that work really work. I enjoy their take on rock-punk and they are definitely exploring new ways to push their sound. A must see live band.
Pictures from the show
better pictures of the Pela set
http://www.myspace.com/thehosts
http://www.myspace.com/eugenefrancisjnr
http://www.myspace.com/themuslims
http://www.francestheband.com/
http://www.pelamusic.com/