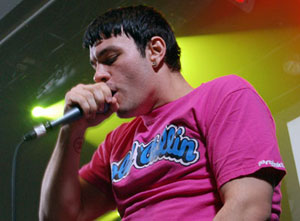 It's official. Indie Rock has become as boring as the Grammys. The Plug Awards came to Webster Hall and I had high hopes for the night as it had a ton of great bands performing. And much cheaper than the very crappy Spin show last year. The very funny Aziz Ansari hosted the event and performers included: BEANS w/ HOLY FUCK, CHAD VANGAALEN, CELEBRATION, CAGE, MR LIF & Akrobatik, EMILIANA, THE NATIONAL. playing only 25 minute sets (if that).
The show was slow, boring, and ironically enough, none of the performers won ANY Plug Awards. And I (and most music geeks) disagreed with the winners. I wouldn't even rank the winners in the top 5 of the list. Best New Artist of the Year: "Clap Your Hands and Say Yea". Are you fucking kidding me?? Best Indie Rock Album: "Bloc Party" . Whatever… For Best Female Artist, presenter Langhorne Slim pulled the winning envelope out of Rob Crow's butt and announced that Coco Rosie won (which I agree) and then walked off stage, at the same time "Neko Case" flashed across the screen. That pretty much sums up the event.
Another moment that captured the mood of the show was when Pitchfork went to present Best Album Of The Year, and the douche bag just started to read an article from the New Yorker. It went on for more than 10 minutes. The crowd didn't care and neither did TV on the Radio who was waiting for the dickhead to shut up. Kyp even took a picture of the idiotness. Just like the website, the writers themselves are long winded, boring, pretentious fucks.
The only award I agreed with was Avant Album of the Year:(whatever the hell that means): Animal Collective – Feels
and in the words of Rob Pollard. "Fucking Bright Eyes, That Fucking Bright Eyes, What a dick."
links:
Noone Cares About Your Blog
http://www.plugawards.com/
My Pictures from the show